I'm linking up today!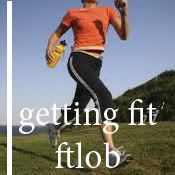 So this week I've been full of fail as far as my diet is concerned. I'm back on sugar and been eating a LOT of junk food! I also haven't exercised much...FAIL.
I will say that I have future blogs planned for my sugar fiasco. There's no coincidence that my scalp is irritated and Jonathan and I have thrush since I've gone back on processed sugar. ugh. It's horrible. I also swear I've put on 10lbs this week. I'm all bloated.
Something I did do: I bought some of those
Trim Step Fitness Shoes
from Target. I didn't buy them because they make exercise easy! Honestly, I have really high arches so it's tough to find shoes that support my feet properly. I end up having to put inserts in every pair of shoes...except these! They have arch support. I've worn them several days now (and done plenty of walking) and I can feel that they actually work. I've always been skeptical but I'm sold. I wake up each day with my butt and legs a bit sore from the day before. Bonus: They're on sale at Target right now!
Starting next week I'm back off of processed sugar (just honey, stevia, and maple syrup here!) and I'm going to make it a point to do SOMETHING every day. Hopefully I'll be able to do yoga and something else (an ab workout for example). I also try to play with my toddler when the baby naps and it's usually something active like dancing. A friend asked if I do anything for strength: I don't do anything official. However, I have a baby (almost 15lbs) and a toddler (almost 30lbs) and I hold them frequently so I think that counts for something!
Mostly, I could care less about numbers (I'm an eating disorder survivor so I don't ever really know what the numbers are...) I mostly want to be in better shape! I'd like to eventually take up jogging (when Jonathan gets old enough to leave with Daddy!)